Headstart of plant growth, better root growth, optimized yield, accuracy of fertiliser application, environmental care, cost saving

How can we ensure high yields of row crops in the most efficient and sustainable way?
When the development of the PUDAMA precision seeder began, in 2017, German farmers were being criticised by the EU authorities for using too much artificial fertiliser and slurry. Too much nitrate and phosphorus were causing soil degradation and other environmental problems. In the last two years, the issue has taken a new twist: a shortage of nitrogen is driving up fertiliser prices all around the whole world. Crop yields are decreasing and food shortages threaten.
What are the benefits of the PUDAMA pinpoint grain fertiliser?
Precision fertiliser application
Maize is a hungry crop that can require fertiliser application before, during and after planting. In Germany it is common to give the seeds a so-called starter treatment. It is usually applied in the form of a continuous band under the maize grains. Researchers were concerned about the gap between the seeds: part of the fertiliser band was not being used. In other words, fertiliser was being wasted and it ended up polluting the groundwater. This led to a unique development within Kverneland to develop a system that fertilizes the seeds more precisely, so that the growing plant uses all the nutrients. Better roots lead to better crop growth and yield.
A team was set up by the Cologne Institute of Construction Machinery and Agricultural Engineering together with Kubota subsidiary Kverneland Group Soest. Funding came from the German Federal Ministry of Food and Agriculture. The project was called PUDAMA, which in German stands for "Punktgenaue Düngerapplikation bei der Maisaussaat" and translates as "Pinpoint fertiliser application during maize sowing".
The objective is all about saving fertiliser, environmental care by reducing resource use, including energy for fertiliser production, while reducing farm production costs and securing food production.
With technology such as the Kverneland Optima TFprofi SX PUDAMA precision drill, farmers can save a lot by reducing fertiliser, transport and work costs. For example, if a farmer with 300ha of maize uses 150kg/ha DAP 18-46 in the conventional way, he would save 37.5kg/ha of fertiliser with the PUDAMA system. This means a saving of 7,875€* for 300ha.
In Germany up to 81,000 tonnes of fertiliser could be saved annually in future with the PUDAMA system, which would mean that 16,200 tonnes less of pure nitrogen and phosphate would be used. This corresponds to a saving of 25 % of the fertiliser currently used annually at the same high yield level.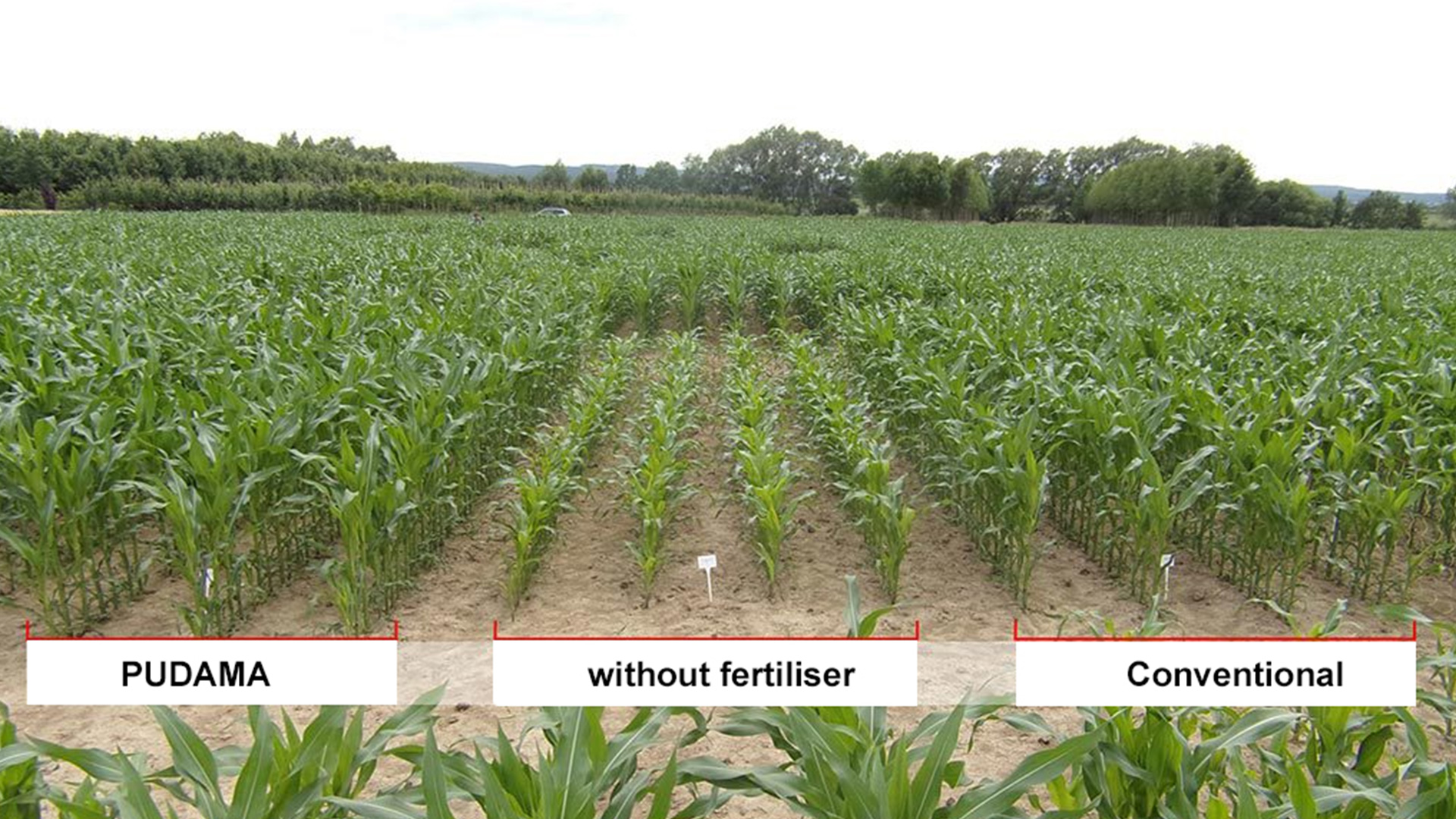 Ensuring sustainable food production – a practice example
Key for farming now and in the future is to reduce the environmental and climate impact of how we produce and consume food. ''Pinpoint fertilising'' means that both seeds and fertiliser are accurately placed at very high speed. Precision seeders with the PUDAMA application, place a fertiliser deposit exactly below each grain of maize – at rates of up to 30 per second. It uses a brush to hold the fertiliser portion and air pressure to release it at the exact moment. This solution comes available in 2023.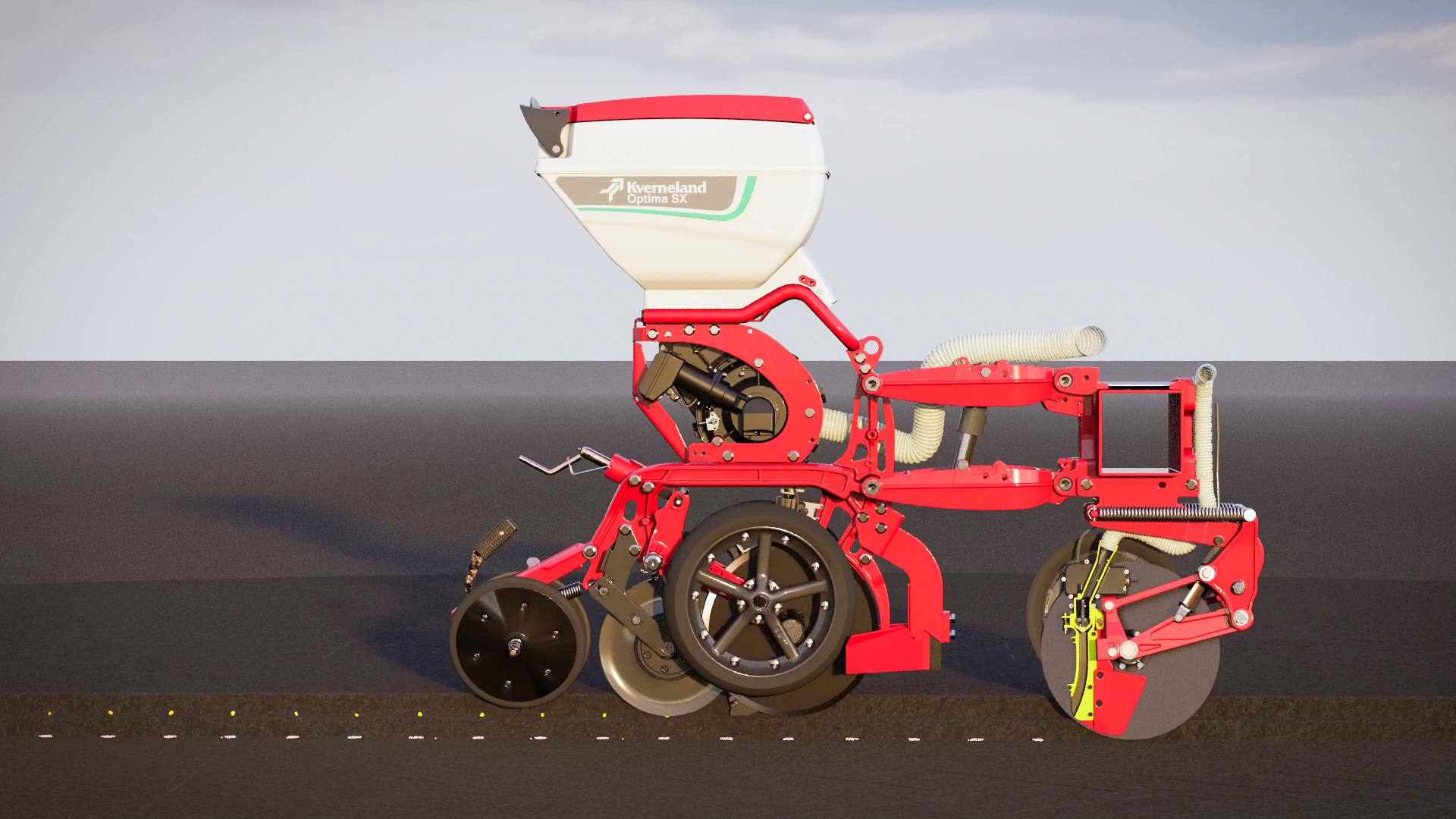 Results: same yield with 25% less fertiliser
The PUDAMA system was shown to achieve the same yield as a traditional band of fertiliser – with 25% less fertiliser. Using it on Germany's maize crops could save up to 81,000 tonnes of fertiliser per year. Unused nitrogen and phosphates would be kept from leaching into the environment. As well as saving on the cost of fertiliser, farmers would save time and money on transport and handling.
less fertiliser for the same yield
North Rhine-Westphalia Efficiency Award 2021
The PUDAMA precision air seeder won the main prize in the product category of the North Rhine-Westphalia Efficiency Award 2021. The prize honours innovative products and services developed in the German state of North Rhine-Westphalia. To win, a product has to demonstrate key efficiency factors, such as resource-saving product development, environmentally-friendly manufacture, reduced environmental impact during the product's life, and recyclability.
"We can save 25% of the fertiliser. That means it does not go into the soil and it is not washed out. At the same time, we are talking about saving 81,000 tonnes of fertiliser per year in Germany, fertiliser which does not even have to be produced."
Kverneland R&D Manager Volker Schanzenbach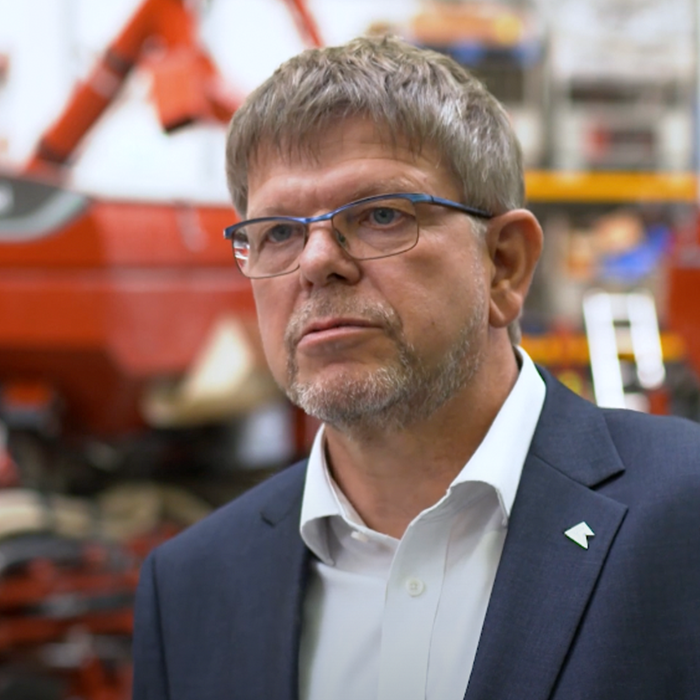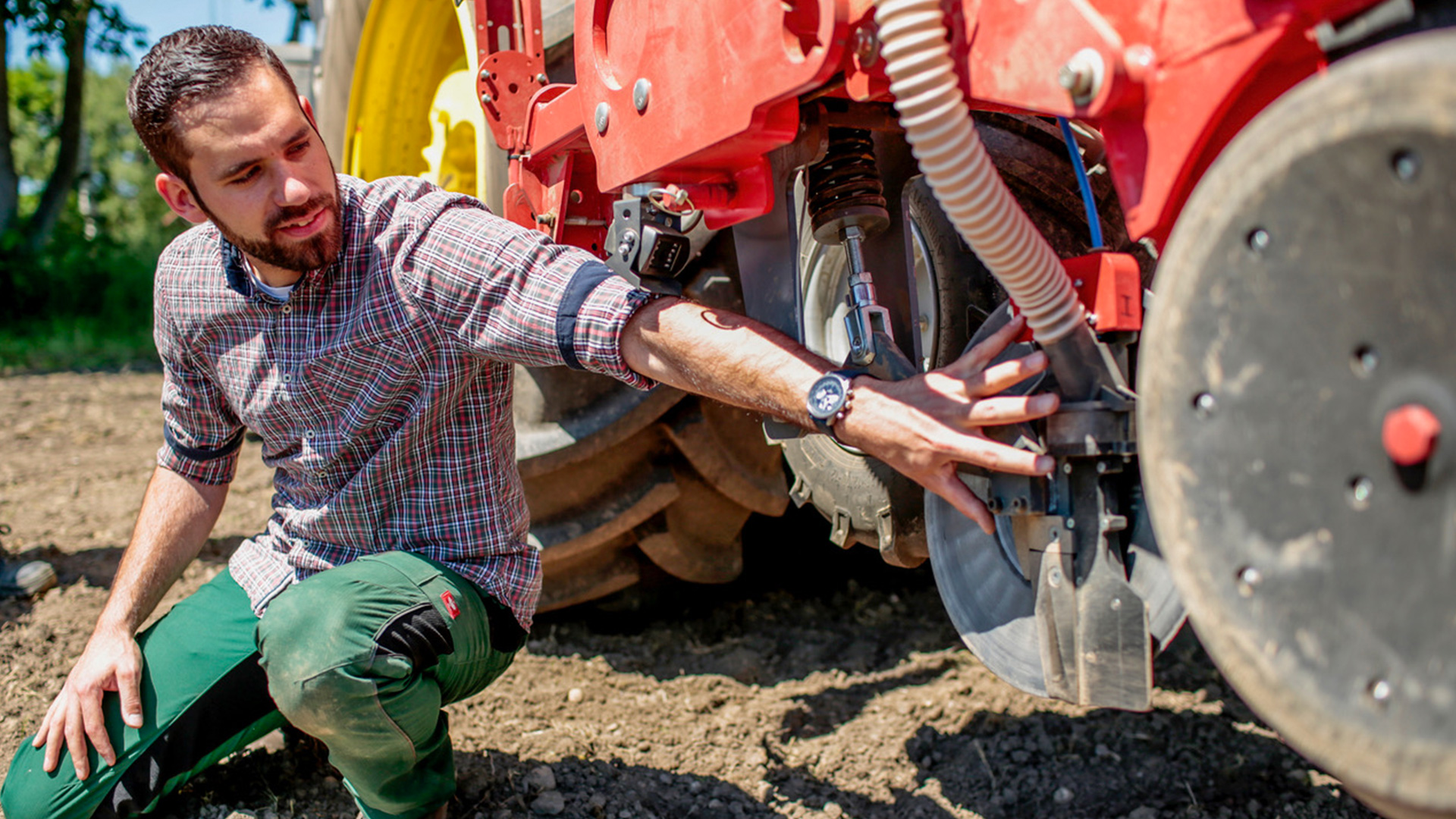 Dr. Max Bouten led the R&D project from its beginnings at the University of Applied Sciences Cologne. Here he explains how they overcame some of the challenges: "Dry fertiliser is hard to work with because the powder tends to clog up implements with moving parts. This made it difficult to develop a dispenser that could place more than 10 portions per second. We considered all sorts of things and the idea of the brush was like a bolt from the blue. Then we looked at some high-end rubbish-sorting systems, added the air pressure and put it all together". This brings about another advantage of the system, as he points out: "The farmers do not have to change their fertiliser to liquid or pellet form – the PUDAMA system works with their normal fertiliser."
UN Sustainable Development Goals
The PUDAMA precision air seeder contributes to the UN Sustainability Development Goals of preventing hunger, ensuring sustainable production, promoting innovation, and protecting life on land.
Explore other stories from our brands
How should we address the great challenges of our time? Can we shape a better future together?
The Kubota Group wants to lead the way with innovative solutions for agriculture.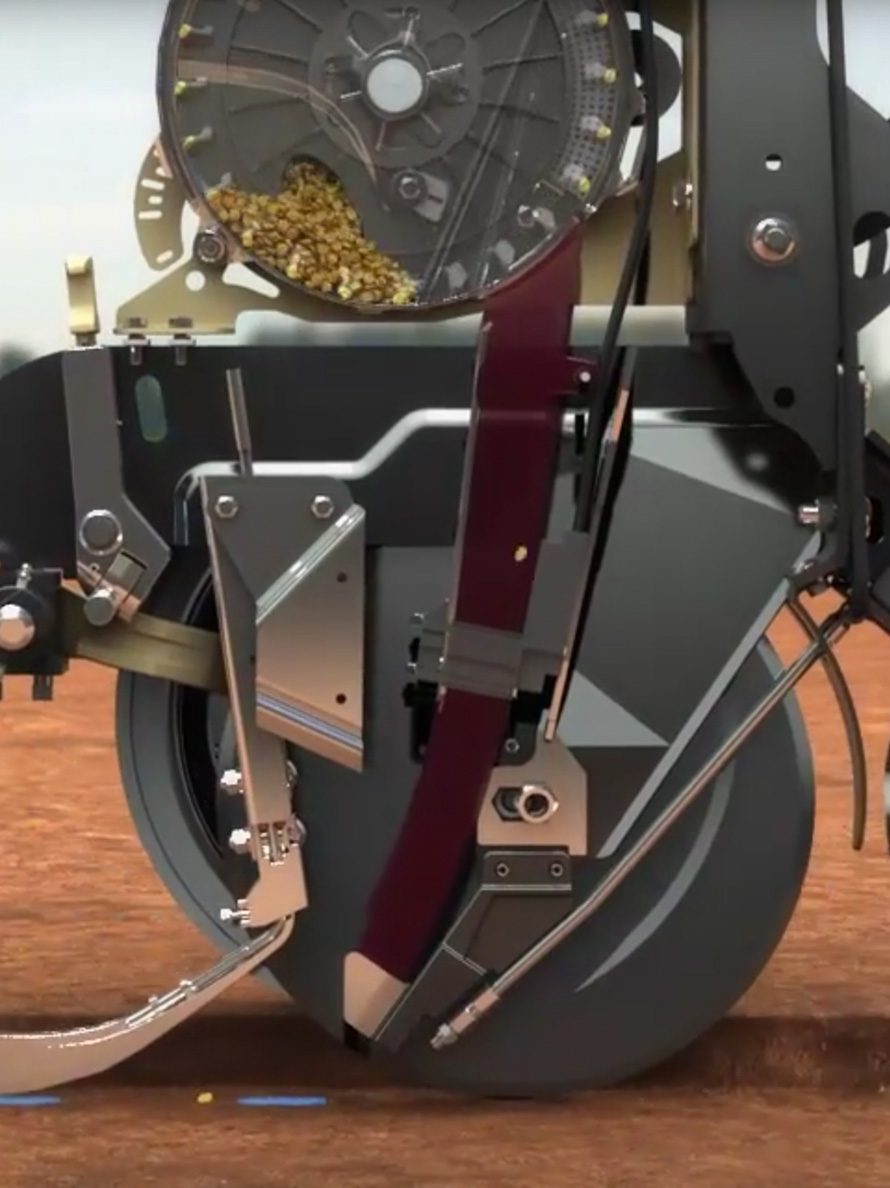 The best start for each seed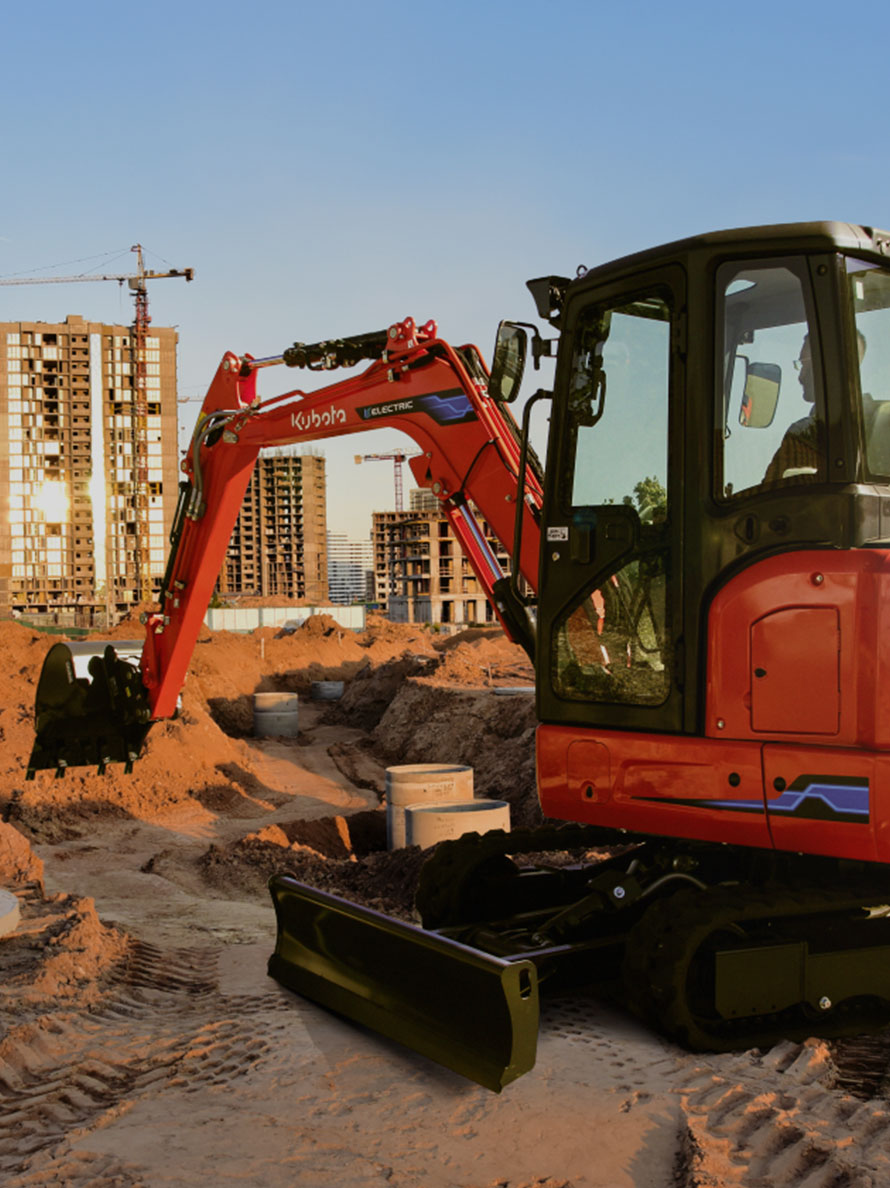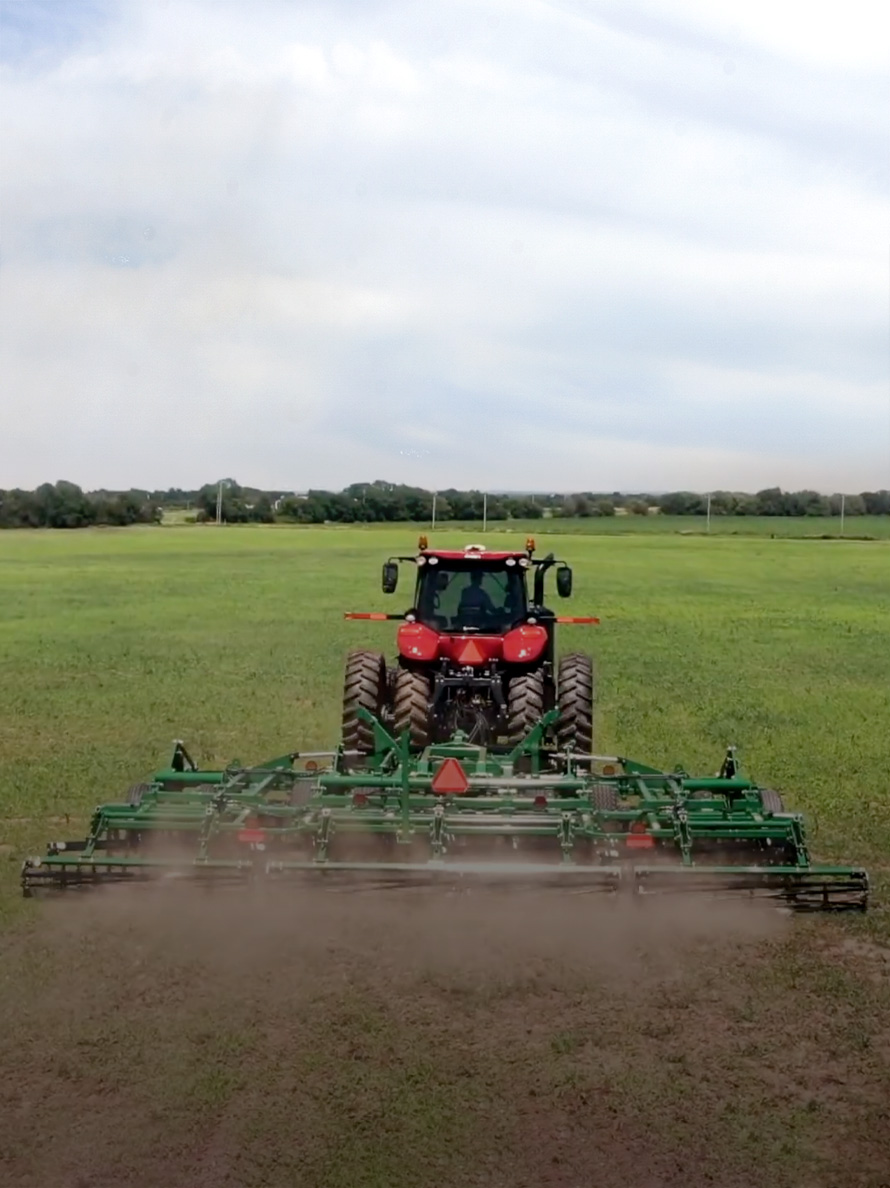 Improving tillage comfort