Kubota Engines | Innovative Engine Solutions
Taking industry to a

low carbon future
Kubota Engine Solutions contribute to carbon neutrality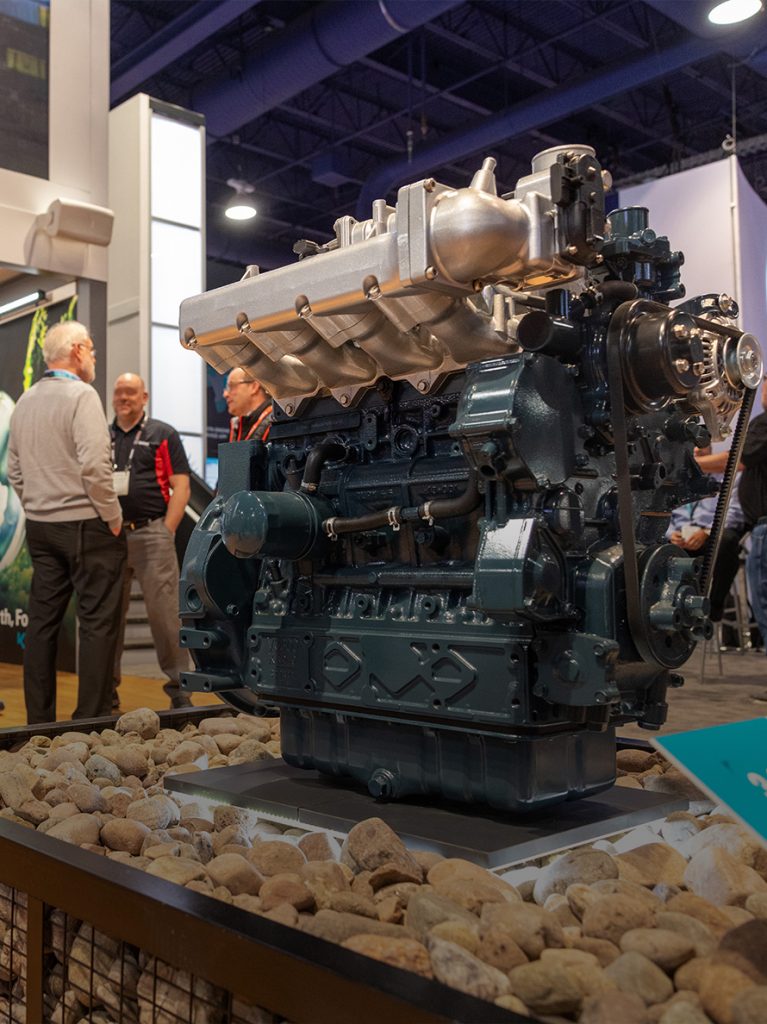 How can industrial engines address a variety of needs?
The concept of carbon neutrality involves striving to balance the emission and absorption of greenhouse gases, ultimately achieving a net-zero state. The Paris Agreement, established in 2015, serves as a global framework for addressing climate change after 2020, and aims to achieve a balance between human-caused emissions and greenhouse gas removal in the latter half of this century. Across the globe, regional organizations and corporations are actively working towards this ambitious objective.
The industrial sector, akin to other domains, is intensifying its endeavours to attain carbon neutrality. Companies within this sector are embracing the challenge of minimising their environmental footprint. However, the realm of industrial machinery encompasses a vast array of equipment including construction machinery, agricultural machinery, vehicles, and power generators. These devices operate in diverse ways and environments, each subject to varying regulations depending on the region. Consequently, multiple strategies are being adopted to achieve carbon neutrality.
Industrial internal combustion engines play a crucial role as power sources for a wide range of industrial machinery and can contribute significantly towards reducing carbon emissions. They grapple with an increasingly diverse set of requirements in order to effectively serve this purpose.
Creating a carbon-neutral, sustainable future is at the heart of Kubota's drive towards tackling and resolving environmental and social issues.
Central to this aim is Kubota's engine development programme which offers a portfolio of established and new, ground-breaking hybrid and hydrogen models which are ideal for future generations of machinery for a range of sectors.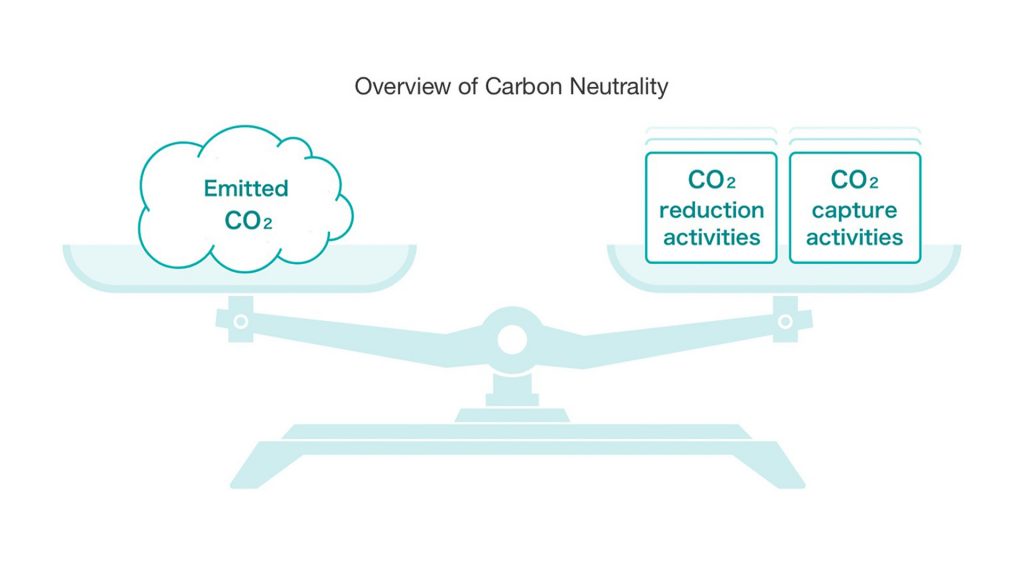 Carbon neutrality involves not only reducing CO2 emissions but also actively mitigating them through absorption initiatives like nature conservation and urban greening. The goal is to progress towards a decarbonized society, striving for near-zero emissions.
What are the benefits of the latest Kubota engines?
Engines that continue to meet OEM needs and contribute at the same time to carbon neutrality
Meeting OEM needs
Kubota Engine offers OEMs the advantage of tailor-made solutions. Over time, the company has consistently addressed the unique needs of OEMs by developing an extensive range of engines, now totalling over 3700 variants (as of January 2023). These engines are designed to cater to the diverse power requirements of a wide spectrum of industrial machines.
Even in the current landscape with a growing demand for carbon-neutral industrial engines, Kubota steadfastly adheres to its policy of crafting engines that align with specific needs. The company remains committed to offering a range of engine options to OEMs. In response to the evolving demands for carbon neutrality, Kubota is capitalising on its century-long expertise and technological prowess, unveiling three solutions that propel the ongoing shift towards a low-carbon footprint and decarbonization.
Contributing to carbon neutrality
Kubota will showcase three of its most innovative engine solutions at Agritechnica in the company's extensive Group Solutions Hub in Hall 5, Stand B29 – the Showroom of the Future. Each offers a unique approach to realising carbon neutrality.
Hybrid solution. Micro hybrid technology provides extra power boosts when required.
Fuel solution. Engines which are compatible with low carbon fuels such as Hydrotreated Vegetable Oil (HVO) and hydrogen. Hydrogen emits no CO2 during combustion.
Pure engine solution. Existing engines with enhanced fuel efficiency.
Kubota engines advancing towards carbon neutrality
Hybrid Solutions
Hybrid Solutions integrate an engine with an electric motor mechanism. The electric motor assists the engine when high output and load are needed instantly. This innovation allows a 2.4L or 1.8L engine to suffice where a 3L engine would traditionally be necessary, promoting downsizing and reducing fuel consumption.
Daniel Grant, Manager, Marketing Intelligence for Kubota Business Unit Engine Europe: "Our new range of hybrid and hydrogen engines combined with the use of renewable and zero carbon fuels are an example of our commitment towards the development towards carbon neutrality and sustainable power solution whilst, at the same time, helping machine designers and operators to benefit from reduced maintenance demands and fuel consumption as well as enhanced installation ease and machine design flexibility.
"The overall machine performance is maintained whilst our engines' efficiency offers reduced cost of ownership through downsizing.
"Along with our existing tried and tested engines, Kubota's new and diversified engine portfolio represents a significant, low carbon and sustainable opportunity.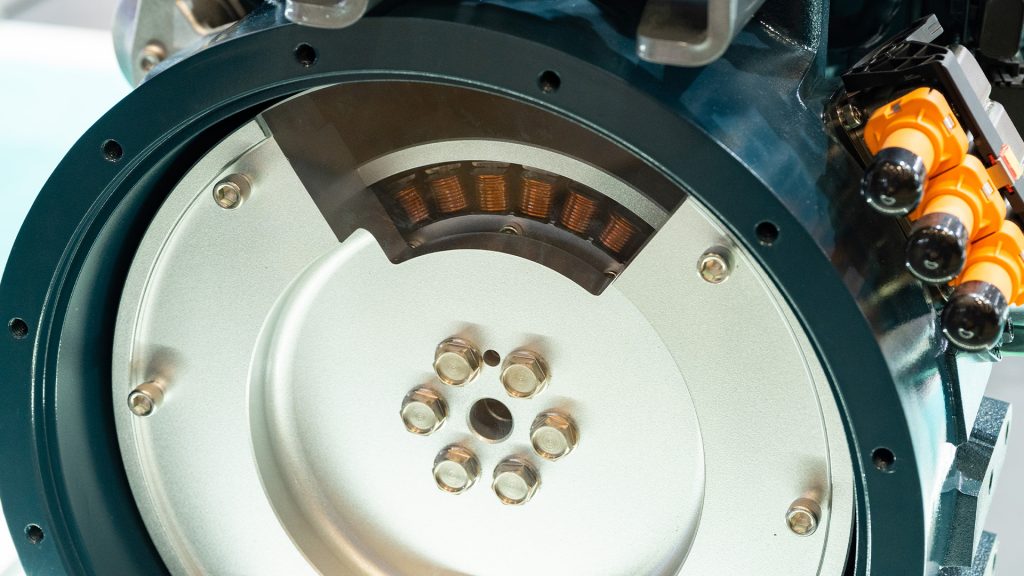 The electric motor's coils are positioned at the rear of the flywheel in the D1803 P1 hybrid engine.
Fuel Solutions
Our Fuel Solutions engines enable the use of alternatives to fossil fuels. Some models like the D1105-K engine are designed to run on hydrotreated vegetable oil (HVO). HVO is produced by introducing hydrogen to vegetable oil, with plants serving as the raw materials for HVO. Plants absorb CO2 as they grow, effectively offsetting the CO2 emitted during combustion. Consequently, engines compatible with HVO significantly contribute to carbon neutrality.
Kubota is actively involved in the development of a hydrogen-powered industrial engine, capitalising on extensive engine technologies accumulated over its lengthy history. The company aspires to drive decarbonization by creating industrial engines that operate on hydrogen, emitting zero CO2 during the combustion process.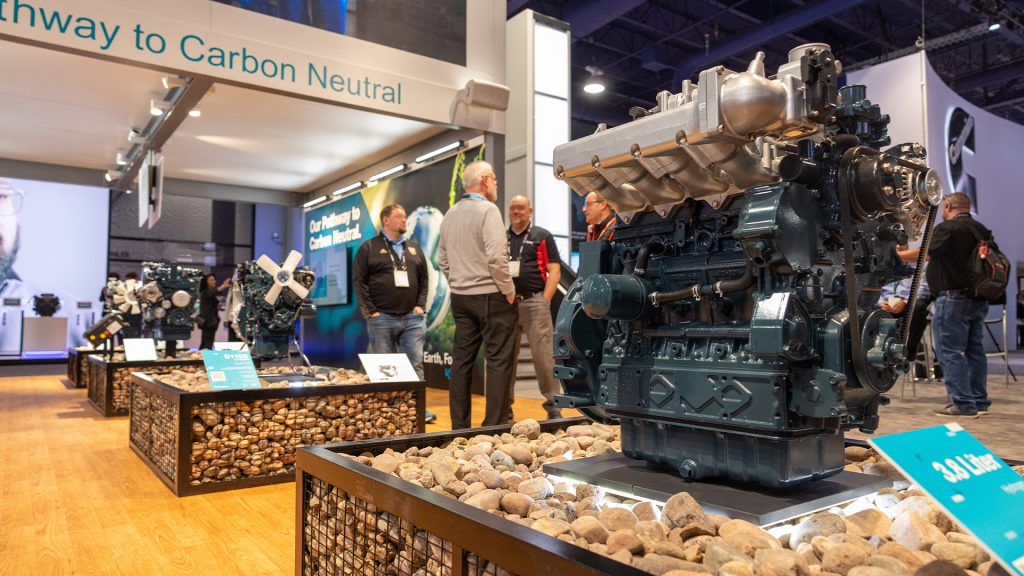 Kubota is developing a 3.8L hydrogen engine. In September 2022, Denyo Co., Ltd., a company specialising in generators, welding machines, and air compressors, announced the start of a project to create a specialised hydrogen generator. This generator operates using an industrial hydrogen engine provided by Kubota.
Pure Engine Solutions
Pure Engine Solutions represent a focused effort to enhance the fuel efficiency of existing engines. An exemplary instance is the D902-K, an electronically-controlled small diesel engine, which commenced mass production in 2022, showcasing TVCR—a proprietary combustion system by Kubota.
TVCR leverages a common rail electronic control system akin to that in large diesel engines, customised for smaller engines. This approach reduces black smoke emissions and lowers fuel consumption, all while maintaining the engine's compact design.
The D1105-K electronically controlled small diesel engine, employing the same TVCR as the D902-K, is slated for mass production in the near future.
Kubota already offers diesel engines with improved fuel efficiency, such as the Kubota 09 Series V5009, which was the company's first-ever diesel engine above 200 horsepower and is designed to meet the higher power requirements and wide range of needs in agricultural and industrial machines.
The V5009 can deliver up to 157.3 kW (210.9 HP) at 2200 rpm while meeting the emissions standards of EPA/CARB Tier 4 and EU Stage 5. More information here: https://kuk.kubota-eu.com/engines/09series/
While discussions about decarbonizing engines often emphasise electrification, it's important to recognize that not all industrial equipment lends itself to electrification. Industrial machinery demands significant power output and is often used in remote locations where electricity is not readily available. To facilitate the drive towards decarbonization in such industrial equipment, which isn't easily adaptable to electric power, Kubota is actively engaged in providing engines that prioritise fuel efficiency, offer hybrid capabilities, or can operate using alternative fuels. Kubota's goal is to create an environment where manufacturers have the flexibility to select the most suitable engine solutions for their products from a diverse array of options.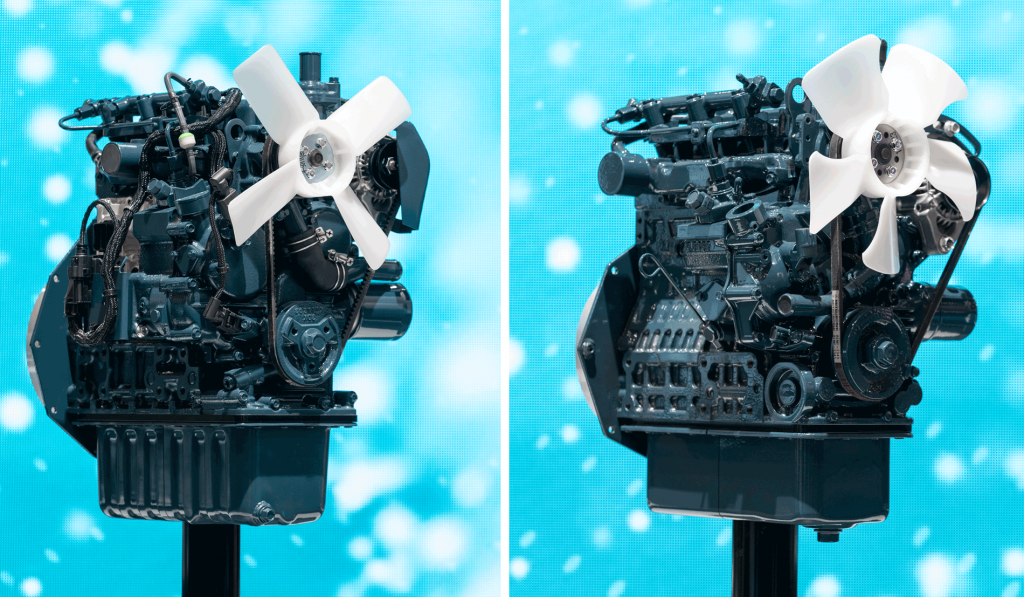 In the near future, mass production is scheduled for the D1105-K electronically-controlled small diesel engine (left), incorporating the same TVCR technology as the D902-K (right).
"The success of Kubota's carbon-neutral initiative is driven by the organisation's vast business information network and its dedicated team of forward-thinkers."
Toshiyuki Taneda, Kubota Executive Officer and General Manager of the Engine Division
Kubota Engine is dedicated to expanding its footprint to best support its OEMs. Toshiyuki Taneda, Kubota Executive Officer and General Manager of the Engine Division, explains:
"As we expand our business globally, we are gathering information about market and political trends throughout the world as well as OEM demands. For example, when HVOs, which had not yet been distributed in Japan, started to be used in overseas markets, we set our business strategy based on that information and worked to contribute to carbon neutrality by making Kubota engines compatible with HVOs. Being able to provide engine solutions tailored to the usage environments, regulatory systems and current demands in various countries and territories is one of Kubota's main advantages."
Taneda adds that the system Kubota has developed to demonstrate this advantage is one of its greatest resources:
"At Kubota Engine, we have a Sales Department that has discussions with OEMs to clarify what kind of customization they need, along with an Engineering Department, Manufacturing Plant, Production Department and Procurement Department that can provide this customization according to the OEM's needs, and a Service Department that provides comprehensive after-sales service for any of our thousands of engine types. We have built our organisation to provide each and every OEM with choices of engines customised to match their requirements and the best possible service."
Looking to the future, he adds:
"To minimise the carbon impact of industrial engines, various segments within the company such as Engineering, Sales, Service Departments, and the Manufacturing Plant will unite under the umbrella of One Kubota. This unified effort is aimed at producing engines that play a pivotal role in achieving global carbon neutrality. Conversations with our team have revealed the immense passion driving this mission.
"In the present landscape, achieving carbon neutrality is a prominent objective for industrial engines propelling a diverse array of industrial machinery. Kubota remains steadfast in its commitment to address these emerging decarbonization needs within industrial engines, continually striving to offer optimal solutions."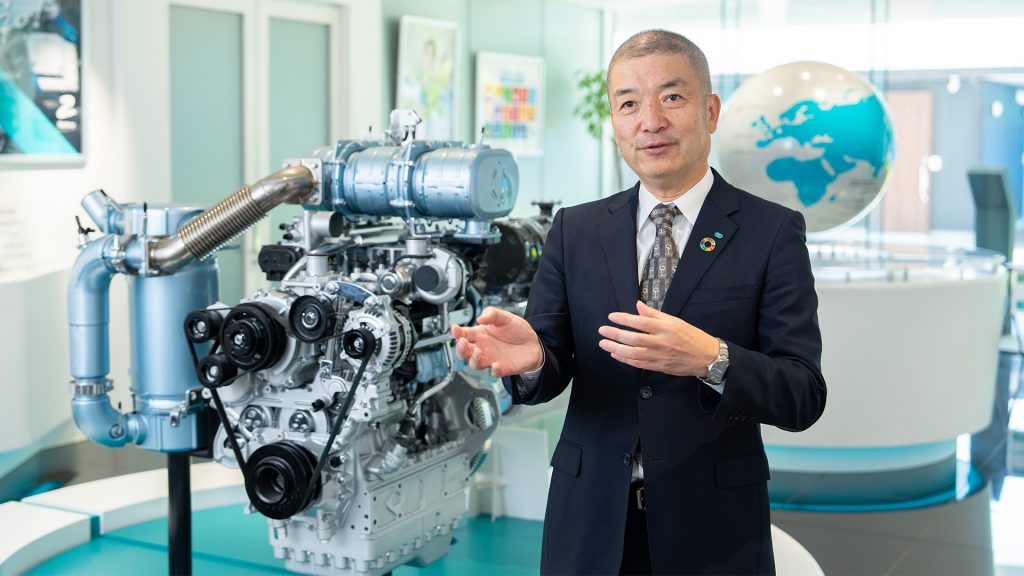 UN Sustainable Development Goals
Explore other stories from our brands
How should we address the great challenges of our time? Can we shape a better future together?
The Kubota Group wants to lead the way with innovative solutions for agriculture.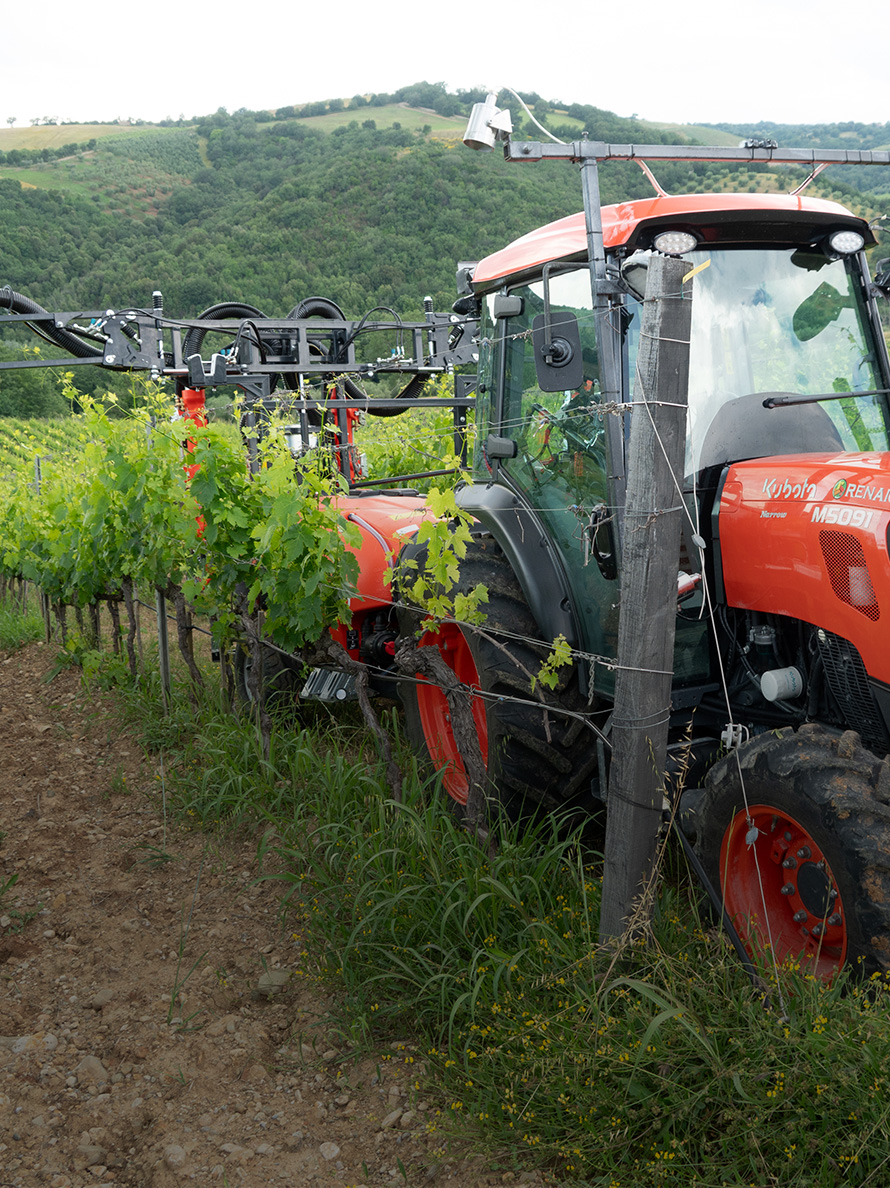 Combining crop sensing and state of the art technology in vineyards enhances vine and environmental health while improving crop quality and yield.