Great Plains International Announces New Planter Features and Technology
SALINA, KS – Great Plains continues to enhance its popular PL Series lineup. The PL Series lineup includes an 8- row folding PL5505 planter that features 3m transport and liquid or dry fertilizer, a 12- or 16- row PL5705 planter with either bulk or on-row hoppers, 12.2-meter PL5805 planter with a bulk tank and narrow 35 cm or Twin-Row spacing configurations, an 18.3m PL5905 planter with conventional and narrow row spacing, and the PL5205, a 12.2-meter mounted stack-fold planter for wide row applications. Planters from 6 to 18m will receive important updates, including new ˈ05 Series openers to accommodate new planter technologies like AccuShot™, a precision liquid fertilizer application system, and SureForce™ hydraulic row unit downforce system. In addition to new technologies, several other enhancements were incorporated to maximize product performance, including new parallel arms and opener body with bushings that have twice the wear surface.
The PL5905 will be the first model to feature the ˈ05 Series row units with builds available for the southern hemisphere's 2024 spring planting season. Beginning in mid-2024, a dry fertilizer cart will also be available on the PL5705 with the PL5905 to follow.
AccuShot is a unique liquid fertilizer application system that will help maize growers around the world to maximize yields, while reducing input costs and waste. Unlike conventional methods that dribble a continuous line of fertilizer, AccuShot uses patented technology to dispense a predefined dose of nutrients to each individual seed. The system is customizable, so users can control application rate and input-to-seed proximity – ether directly on the seed or at a specified distance next to it.
Having a customized dose of fertilizer has significant impacts, both economically and environmentally. Great Plains International President, Tom Bryan, said, "AccuShot gives maize growers real control in maximizing their return from high-cost fertilizer inputs and minimizing waste – all without reducing yield potential. In addition to improving producers' economic situations, AccuShot offers a genuine environmental benefit by reducing the amount of unused chemical that is released into the soil. Other applications for AccuShot also have potential in the areas of growth regulators, seed treatments, dual placement, insecticide, and other liquid applications."
SureForce is an active planter row unit force system that uses gauge wheel load sensors to sense and respond to changing conditions. Bryan said, "SureForce technologies enhance the capabilities of Great Plains planters and further protect against agronomic challenges – allowing for increased planter accuracy, greater yields, and peace of mind."
The SureForce system handles a variety of planting environments and gives producers the ability to monitor, record, and control each row individually. Matt Wolfe, Ag Leader Business Development Manager, said, "One of the biggest concerns when planting is depth loss, which generally occurs when field conditions change. SureForce gives growers added confidence knowing they have the right amount of down pressure on every row as the system adjusts automatically."
Each row has individual gauge wheel sensors to record the change in force up to 200 load values per second. The SureForce system can provide up to 113 kg of up-force and 295 kg of down-force. In areas where the row unit has too much weight, hydraulic uplift prevents sidewall compaction by removing excess weight.
Great Plains will also begin offering new, tow-behind dry fertilizer carts that are fully integrated with PL Series planters. The integration will happen first with the PL5705 and PL5905 planters, featuring 12-rows all the way up to 48-rows. The 5,239-liter cart is a well-tested design, made with 300 Series food grade stainless steel and poly construction on every row.
"For customers who require dry fertilizer, this will be a critical enhancement to our planter lineup," said Great Plains International President, Tom Bryan. "Because of its simple design, long life, and unique metering ability, we expect the cart to be an immediate success for our customers."
Carts handling 16- rows can be installed with a two-section drive. Standard or high output meter sizes can be used, as well as low-rate augers offering ability to apply half rates. A steerable cart with patented steering system allows for tight turns and controlled traffic patterns. Built to survive in harsh fertilizer conditions, the cart offers an adjustable wheel base including options for 70cm rows and drift assist steering.
To learn more about these innovative products and technologies, stop by the Agritechnica show in Hall 5, Stand B28, or visit www.GreatPlainsAg.com.
Great Plains Manufacturing, founded in 1976, employs over 2,200 people worldwide. It encompasses five divisions: Great Plains Ag, which manufactures soil management and seed placement equipment and other farm implements; Land Pride, which manufactures grounds maintenance tools such as mowers, rototillers, rotary cutters, dirt-working equipment, and construction equipment attachments; Great Plains International, which sells the company's products worldwide; Great Plains Trucking, which operates a nationwide fleet of flatbed trucks; and Great Plains CE Division, which manufactures powered equipment for the construction industry. Great Plains Mfg., Inc., is headquartered in Salina, Kansas.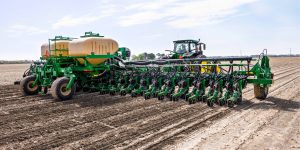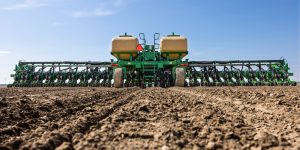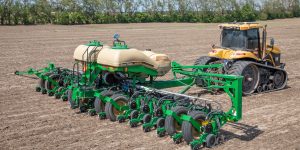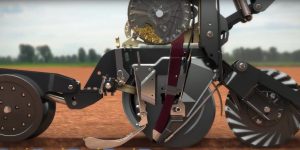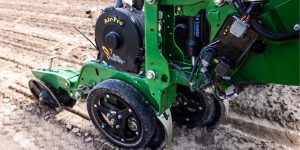 You need more information?